IGBT technology 80KW high frequency heating induction forging brazing machine

As and with the earliest and most senior technical team in this area, our induction heating equipments have been approved by China domestic market!!!
As per our 20 years experience, will direct you to choose one suitable equipment~~

The induction heating machine is working in our client's factory.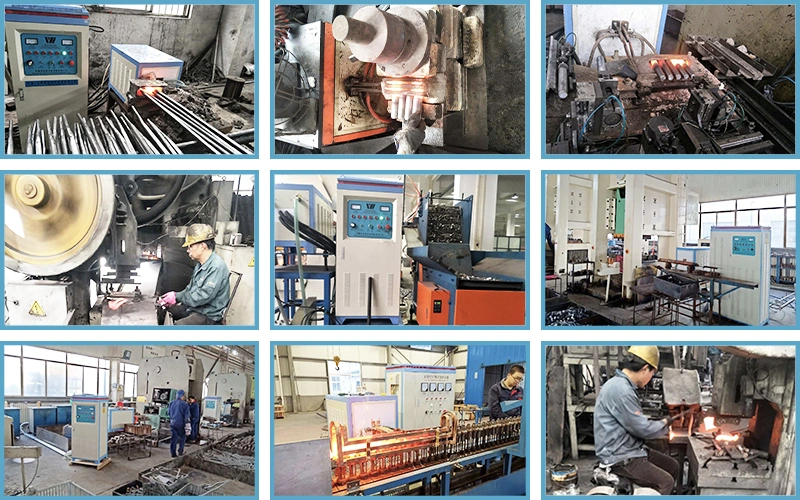 High-frequency induction heating equipment (power) 120KW-----Features:
High-frequency induction heating equipment (power supply) 120KW can meet surface quenching within 350mm of gear diameter, within 500mm of sprocket diameter, and within 120mm of shaft. The most prominent application is that it can meet the machine tool guide cross-section area within 300mm. Can also be used for the thickness of 20mm, the width of 900mm within the steel diathermy; and other applications!
| | | | |
| --- | --- | --- | --- |
| Working voltage | Three Phase 380V/50Hz | Cooling water flow (host) | 32L/Min(0.1MPa) |
| Voltage range | 360V~420V | Cooling water flow (transformer) | 29L/Min(0.1MPa) |
| Max input current | 120A | Cooling water pressure | 0.1~0.3MPa |
| Max input power | 80KW | Weight of host | 70Kg |
| Oscillation frequency | 25~45KHz | Transformer weight | 90Kg |
| Efficiency | 90% | Host Dimensions(mm) | 600×480×1360 |
| Duty cycle | 100% | Transformer Dimensions(mm) | 500×800×580 |
Application area:
1. Penetration forging of round steel with diameter less than 45mm.
2, Φ350mm disk, Φ100mm below the shaft and other mechanical parts quenched.
3, machine tool guide quenching.
4. Quenching of auto parts and motorcycle parts.
5, pliers, wrenches, screwdrivers, hammers, axes and other parts heat treatment.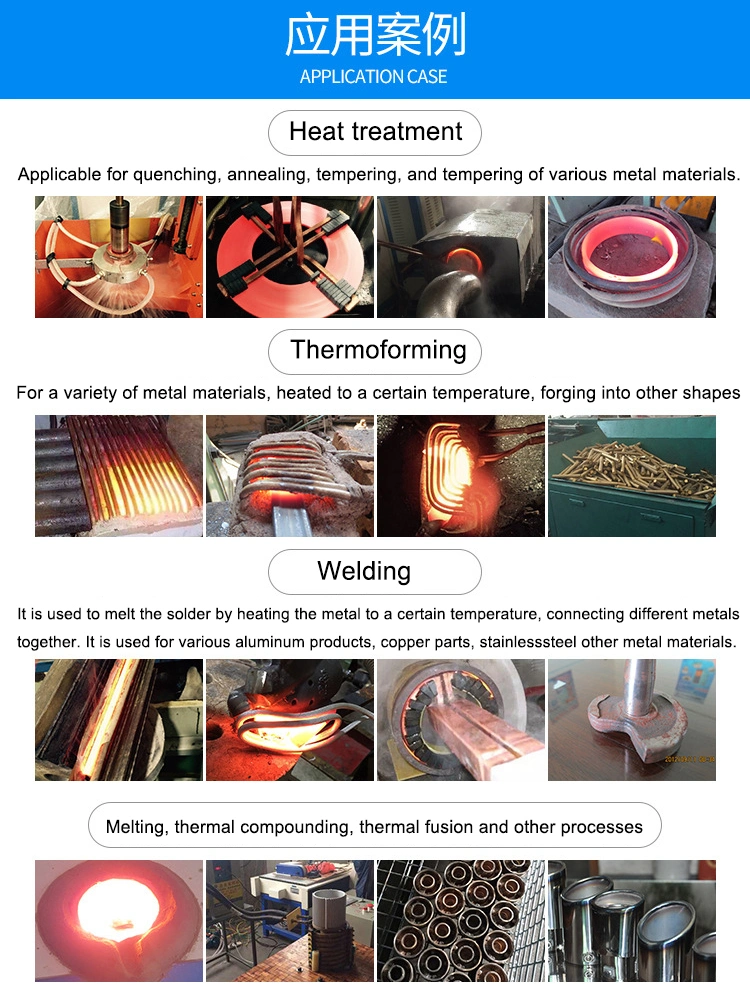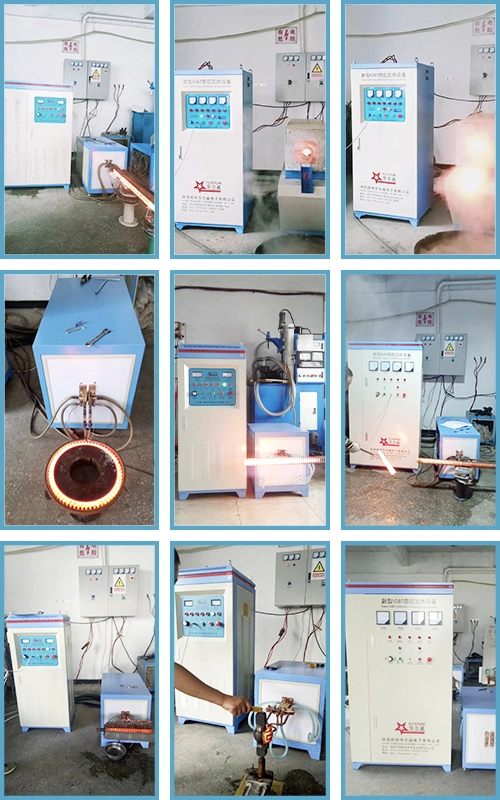 Packing & Delivery
1. Machine is always wrapped with a film layer, and then packed with a paper box.
2. Then put the wrapped machine into a wooden case(Standard exporting ctn), and wrap the machine with foam around.
3. The packed machine can be loaded into 20GP or 40HQ container

Istallation and Afersale-service
1. We have manual and videos to proforme installation instructions for your reference.
2. We have professional technical engineer to do phone call instruction also.
3. We can send our technical engineer to travel your place to do the installation or maintance, if you need.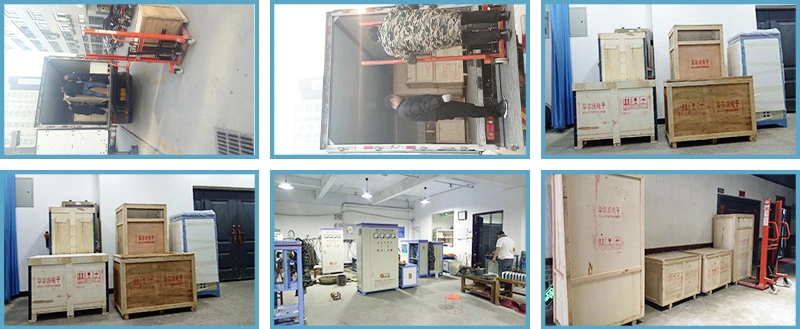 How to choose induction heating equipment?
1. The shape and size of the workpiece to be heated:
The large workpiece, bar stock, solid material should choose the Induction heating equipment with relatively large power, low frequency.
The small workpiece, pipe, plate, gear, etc., should choose the Induction heating equipment with relatively small power, the high frequency.

2. Depth and area to be heated:
Deep heating depth, large area, overall heating, should choose high power, low frequency induction heating equipment;
Shallow heating depth, small area, local heating, choose relatively low power, high frequency induction Heating equipment.

3, The required heating rate:
Requiring fast heating speed, should use relatively large power, relatively low frequency induction heating equipment.

4. Continuous working time of the equipment:
The continuous working time is long, choose relatively slightly larger power induction heating equipment.
On the contrary, relatively small power equipment is selected.

5, the connection distance between the sensing components and equipment: long connection, even need to use water-cooled cable connection, should use relatively large power induction heating equipment.

6, Process requirements:
In general, quenching, welding and other processes, can choose the relative smaller power, and higher frequency;
Tempering, annealing and other processes, can choose the relative larger power, and lower frequency;
Hot extrusion, hot forging, Smelting, etc., requires a good thermal penetration process, choose the larger more power, and lower frequency.

7, the workpiece material:
Relatively higher melting point of metal material, choose the relatively larger power;
Relatively lower melting point of metal material, choose the relatively smaller power;
Smaller resistance, choose larger power;
larger resistance, choose smaller power.

Buying Guides
1**You please send us your enquiry;
2**We shall reply you with the quotation within 12 hours;
3**We negotiate on the configuration that you need;
4**Confirmation of the tech data → sign contract (P/I) → 30% deposit (or L/C issuing)→ production;
5**Manufacturing process updated news → completing production;
6**Balance payment → ex works → shipment → custom clearance → A/S service for 1 year.

Thanks for the overseas customers' trust and warmly welcome fresh friends to visit and work together.

Contact:
Sindy Chen
Mobile:+ 86 15890188201