Industrial Air-Cooled Low-temperature Freezing Water Chiller For Induction Heating System

1.Summary
KCA Serie industrial chiller is applied in the plastic industry, electrons, plating, chemical industry, ultrasonic wave cooling, induction heating machine cooling, printing and others. It can precisely control the temperature, which is requested by the modernized machinery production, and it greatly improved the production efficiency and quality. Coolsoon industrial chiller is a good partner for the modernized industry, which features easy operation, reasonable design, high quality, and various models.
The cooling tower is unnecessary for air cooled industrial chiller, which is convenient to install and move.



2.Air-cooled Industrial Chiller:
The main machine is a brand new imported compressor from Japan and the United States, with built-in safety protection, low noise, energy-saving and durable.

The electric part adopts the original product of international brand "schneider", which ensures the stable operation and long service life of the machine.

Imported Italian pumps, large flow, high efficiency, durable.

Equipped with imported precision digital display temperature controller, accurate control of water temperature ±1ºC, set the temperature range of 5ºC~50ºC. With the self-diagnosis function, it can automatically detect the fault of the unit. The Chinese (English) text can directly show the work and fault of the unit, which is convenient for the operation and management of the unit.

All stainless steel thick water tank evaporator, built-in automatic water replenishment device, easy to clean, fast maintenance.

The condenser of the water cooling unit is a bushing type with a threaded copper tube inside, which has good heat exchange effect. Air cooling unit heat dissipation and cold exhaust, composed of warps and column and column steel tubes, the use of secondary flanging warp mechanical tube expansion process and advanced heat exchanger production line, to achieve high quality and efficiency.

Refrigerants such as R404A, R134a, and R407C can be selected according to the environmental protection standards of different countries and regions.

Special power supply can be customized according to the requirements of different countries and regions.

3. Why choose our Industrial water Chiller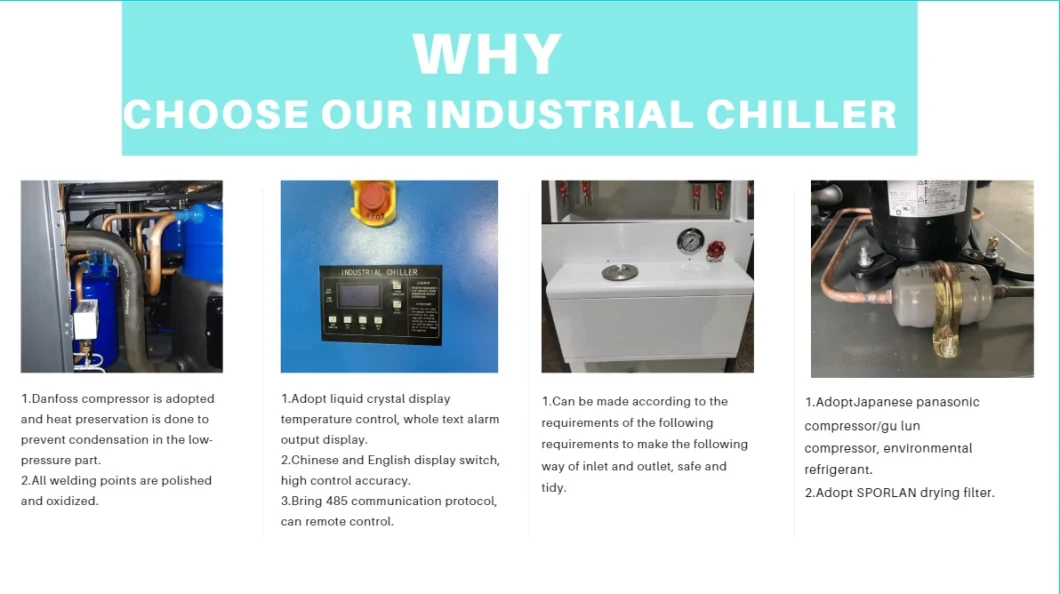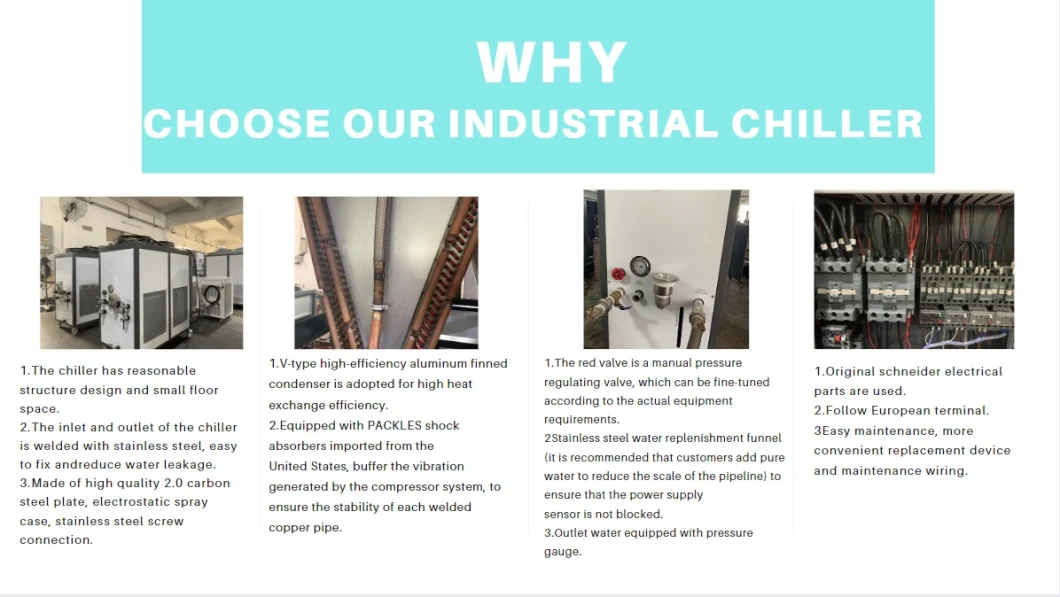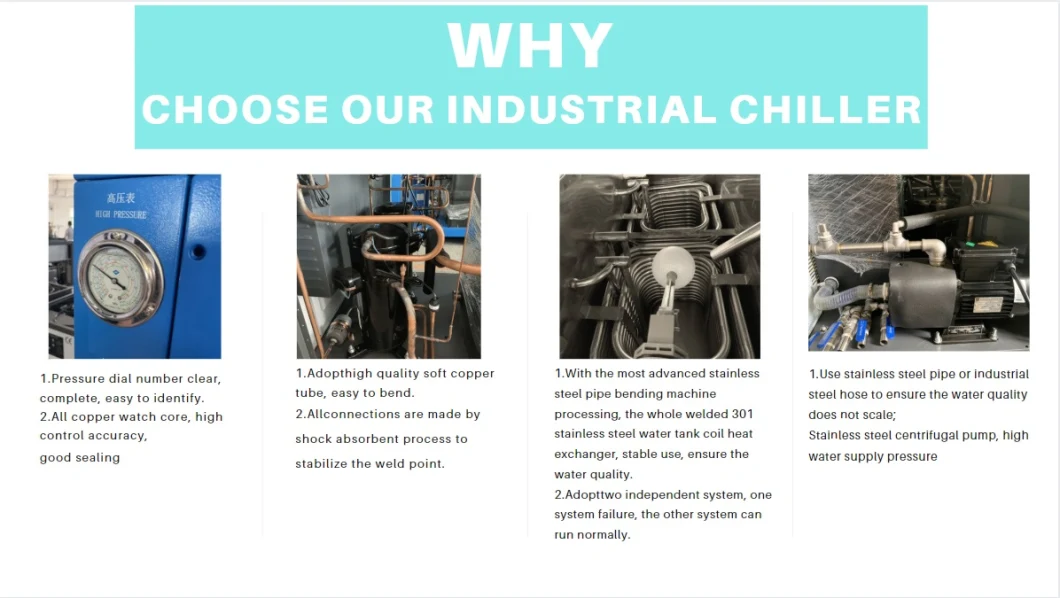 4. Our air-cooled Industrial water chiller family display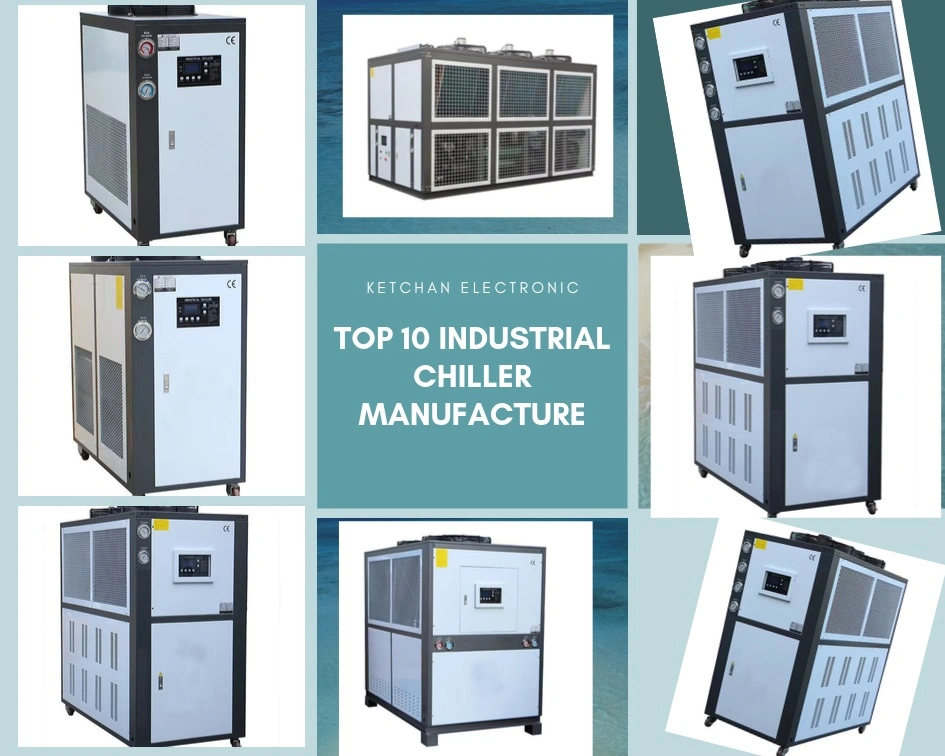 5.Customer service:
Call or e-mail us at any time. Before you place your order, we will be happy to discuss your detailed requirements with you and help you find a selection of machine that is just
right for your market.
6.Quick Delivery:
With your wide requested of faucets with even less than our MOQ, we are able to fulfill most requests within short days of your order.

7. Promise:
Customers Satisfaction, provide good quality and reasonable price and constant after-sale service to be engaged in 100% of us.
9.Industrial water chiller contact details: