High Quality Iron Bar Forging Induction Heater Price (JLZ-70)
Main
Feature
B

ig power, low frequency and good diathermancy.

H

igh frequency, low power consumption, easy installation and simple operation.

I

t can continuously work for 24 hours for the comprehensive full load design.

I

t adopts the IGBT inverter circuit in parallel connection, which ha high load adaptability.

It has functions as over-voltage, over-current, over-heat, phase loss and water shortage alarm indications as automatic control and protection.

C

ompared with other heating models, it can significantly promote the economic benefits, improve the quality of heated work pieces, save the energy and material, alleviate labor intensity and improve the production environment.
Technical Parameters
Model

JLZ-70KW

I

nput power desire

3 phase 380V 50/60HZ

Max

oscillate power

70KW

M

ax input current

105A

Output voltage

70-550V

Output current

20-130A

O

scillate frequency

1-20KHZ

C

ooling water desire

≥

0.

5

MPa

≥

6

L/Min

D

uty cycle

10

0%

4

0°C

Dimensions(L*W*G)

580*600*1300mm

N

et weight

130kg

C

able length

2-6(Meters)
List of Accessories In the Package
Item

Name of machine or parts

Specification

Amount

1

JL

Z-70

KW Heating Power

-

1 pc

2

Foot switch

3 core

1 pc

3

Induction Coils

-

2

sets

4

Water Cable

-

2 sets

5

Instruction Manual

-

1 pc

6

Product catalog

-

2 sets


Main Parts Introduction
1. Germany SIEMENS INFINEON IGBT Module. ( 40-60KHZ oscillation frequency, fast response time, superhigh stability, almost spatter-free welding )
2. Japan Nichicon electrolytic capacitor. ( filter capacitor )
3. Imported transistor integrated block.
4. All water pipe use thermostability, High pressure resistance best quality material.
5. Main card, signal circuit, drive circuit board,control circuit board and components are adopted:Toshiba, Hitachi,Motorola, China's top manufacturers.
6. International advanced all-solid-state semiconductor power devices.
7.Technical advantage:perfect control, alarm display circuit, getting full automatic
tracking
frequency, continuous adjustable power, safe dependable protection,clear and accuracy data display
and etc.
8. Superiority Advantages: fast heating, wide application, small size, easy installation, simple operation, low power consumption, high efficiency.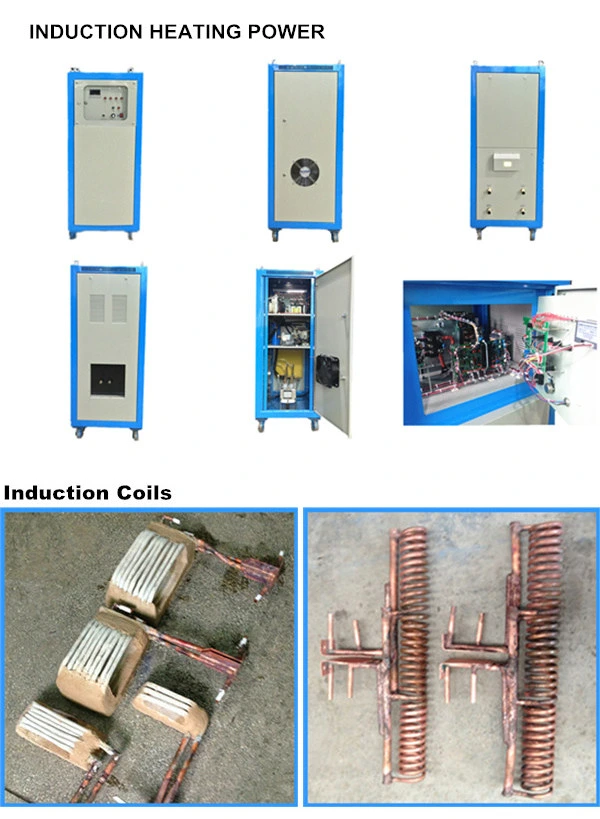 Pre-sale service:
1.

recommend the most suitable machine for customers

,

according to their requirements

.
2.

Inquiry and consulting support.
3.

Sample testing support.
4.

View our Factory.

In-sale service:
1. S

trictly manufacture the machine

,

according to relevant technical standards.
2. T

ake run test

,

according to relevant equipment test run regulations.
3. S

trictly check up the machine, before delivery
4. D

elivery on time.

After-sale service:
1.

12 months warranty period
2.

Within one year free warranty, any fault caused by non-artificial reason, any quality problems such as design, manufacture, or procedure occurs, Jinlai shall provide replacement parts after detecting the faults.
3.

If any big quality problems occurs out of the guarantee period, Jinlai will send maintenance
4.

technician to provide visiting service after checking with the customer and charge for a favorable price.
5.

Jinlai will provide a lifetime favorable price to the buyer with the materials and spare parts used in system operation, equipment maintenance.
6.

The above mentioned are only basic after-sale service requirements, we will make more promises related to quality assurance and operation guarantee mechanism.
Medium Frequency Series JLZ (0.5-20KHZ)
Model

JLZ-15

JLZ-25

JLZ-35

JLZ-45

JLZ-70

JLZ-90

JLZ-110

JLZ-160

Input power desire

3 phase 380V 50/60HZ

Input power

15KVA

25VA

35KVA

45KVA

70KVA

90KVA

110KVA

160KVA

Max input current

23A

36A

51A

70A

105A

135A

175A

240A

Output current

3-22A

5-45A

10-70A

15-95A

20-130A

25-170A

30-200A

30-320A

Output Voltage

70-520V

70-550V

Oscillate frequency

1-20KHZ

0.5-10KHZ

Cooling water desire




(heating power + furnace)

≥0.2MPa ≥6L/Min

≥0.3MPa ≥10L/Min

≥0.3MPa ≥20L/Min

≥0.3MPa ≥30L/Min

Cooling water desire




(heating power)

≥0.2MPa ≥3L/Min

≥0.2MPa ≥4L/Min

≥0.2MPa ≥6L/Min

≥0.2MPa ≥10L/Min

Duty cycle

100% 40°C

Net weight

30kg/35kg

32kg/38kg

43kg/50kg

120kg

130kg

140kg

150kg

160kg