High Frequency Induction Heater (HF-25KW, 40KW, 65KW, 80KW)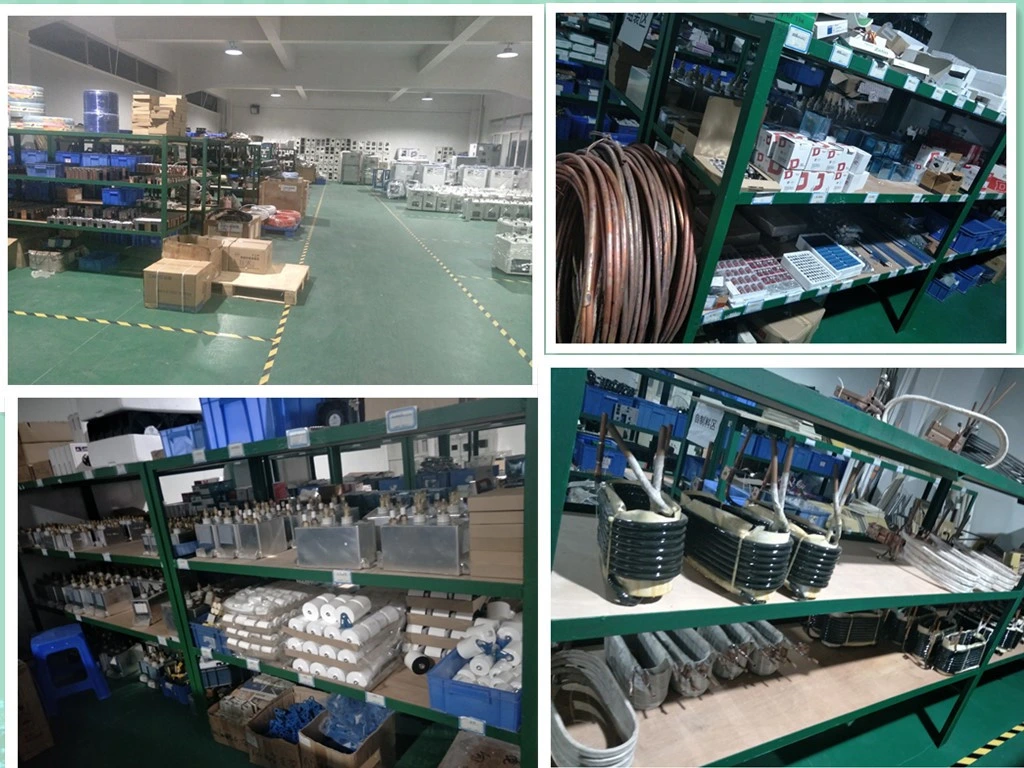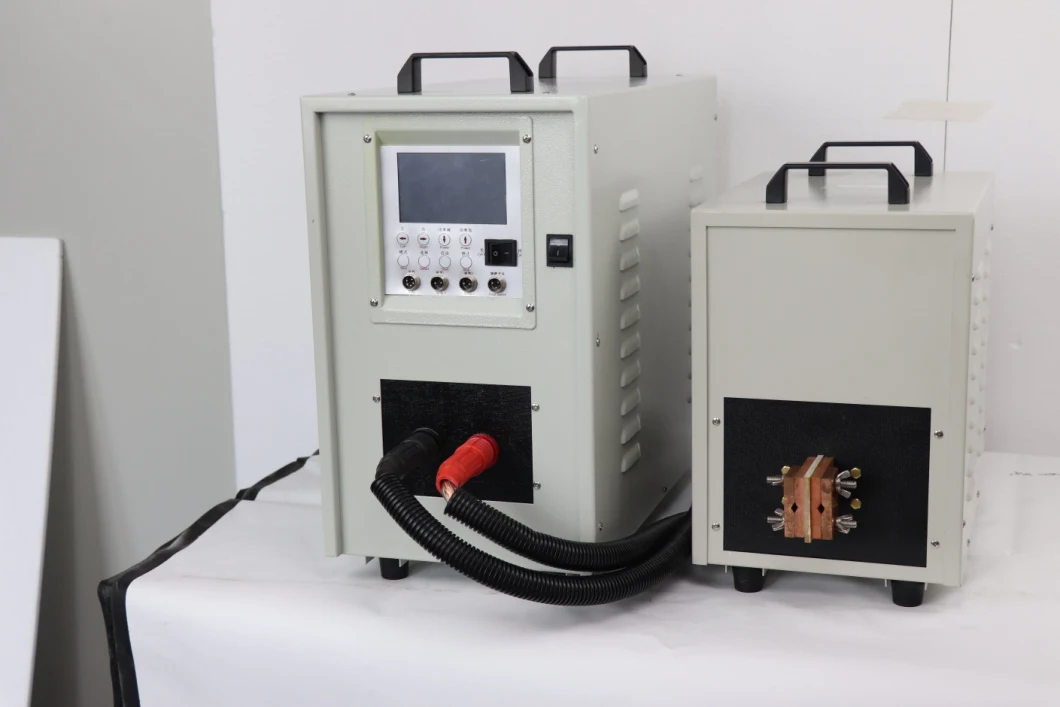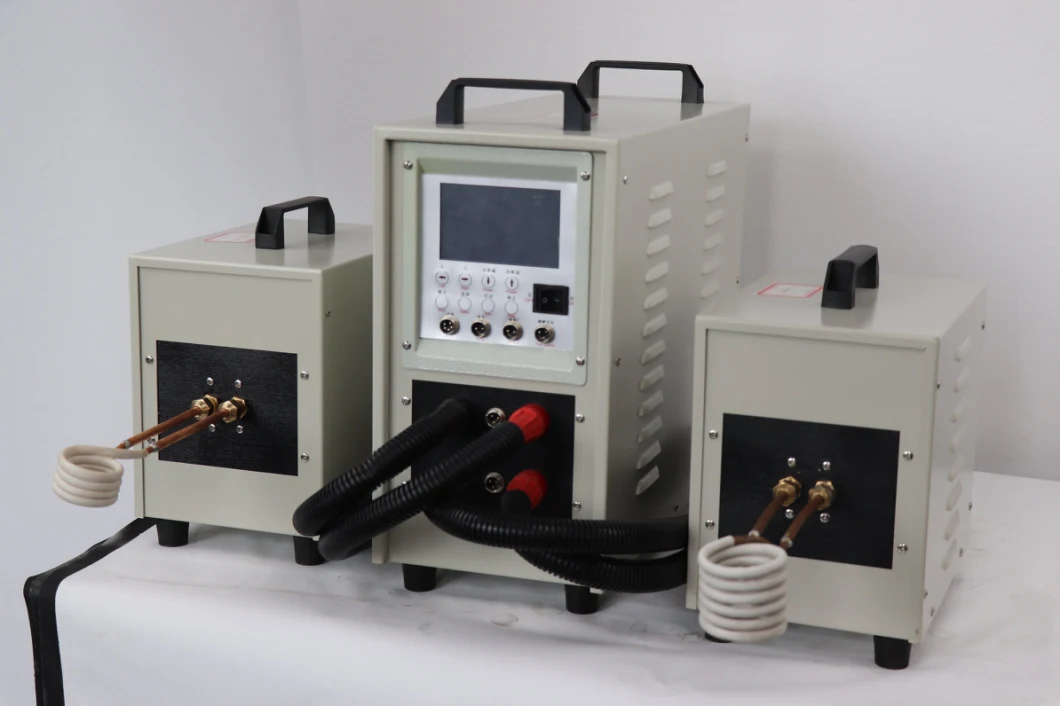 Advantage:
1 More than 20 years experience,stable and goods performance
2 CE certificated
3 Copperated with ZHOUDAFU, Matsushita,Foxconn, Media, Gree a6nd ZHIGAO Air conditioner.
4 Suitable for a large range, heating, quenching, forging, melting, solding and so on.
5 One main part match two transformers, use the change switch to control let which one transformer to work, which one is prepare, save the time, improve the working effciency.
6 Each transformers have two transformer ratios, which good for connect different induction coils to work different workpiece.

Main characteristics:
Advantage for Digital Type:
1 Front Panel use the LCD Touch Screen, Key and Power Switch, all digital display, can use Switch Signal( Electrical frequency signal) to control the machine start and stop, and control the power via PLC.
Visual Human-computer Interface makes the operator feel more intimate and intuitive. Because of its abundant industrial interfaces, it has stronger and more flexible matching ability with robots, various automation equipment and remoe control (unmanned) devices.
2 Induction Heating Machine have remote control function and adopt digital circuit control, power regulation can be adjusted from 0% to 100% resolution and digital PID temperature control module can be configured to set the target
temperature of workpiece(infrared temperature measurement orthermocouple temperature measurement) automatically. The accuracy of temperature control is + 1'C for power regulation in heating process.
3 There are 5 working model, manual, timer, temperature, Constant temperarure, section heating model.
1) Manual, On and stop in the Switch
2 ) Timer, setting heating time, after reach the heating time, then stop. Fixed Temperature: Set the heating temperature that we need it, when the reach to the temperature that we need it, then stop the machine.
3) Constant Temperature: Adjust the heating power automatic to keep the same temperature to the workpiece.
4) Section Heating model, there are 8(S1-S8) options, each section can set the heating power, timer, temperature or constant temperarture, temperature or constant temperature just can choose any one. Power as 0 means no need to heat, put the paramater that you need to set, if not choose that function then show"--
5) There are 9 (P1-P9)programs, which can memorize 9 different workpiece in the machine, and select programs by clicking P(P1-P9). Can save much time if you have many workpiece in one machine, you can choose the programs (P1-P9) to fast working.
4 Infrared Thermometer can As Options

Application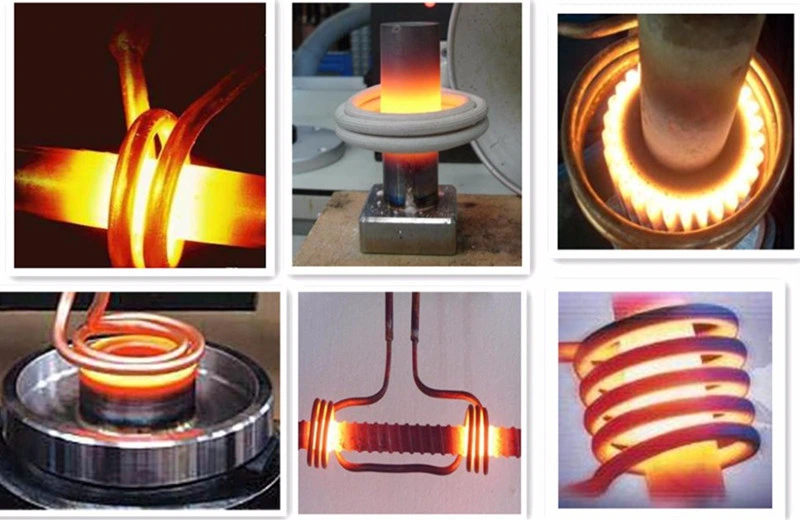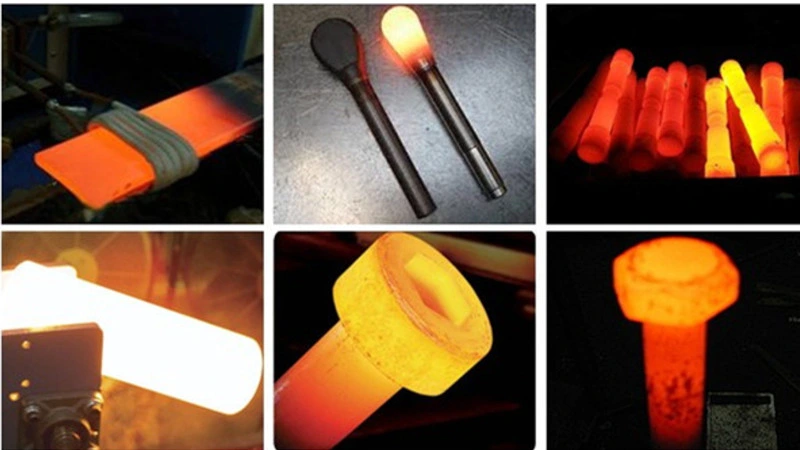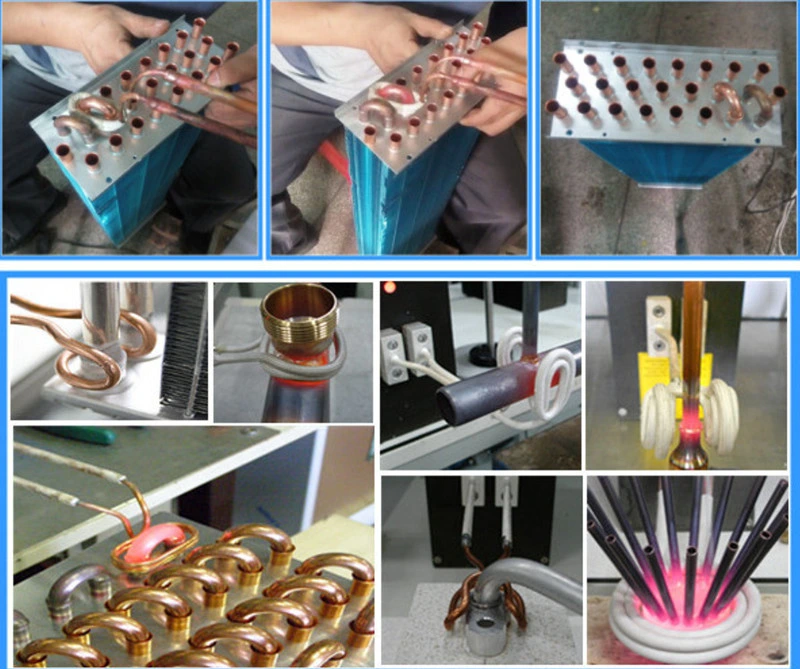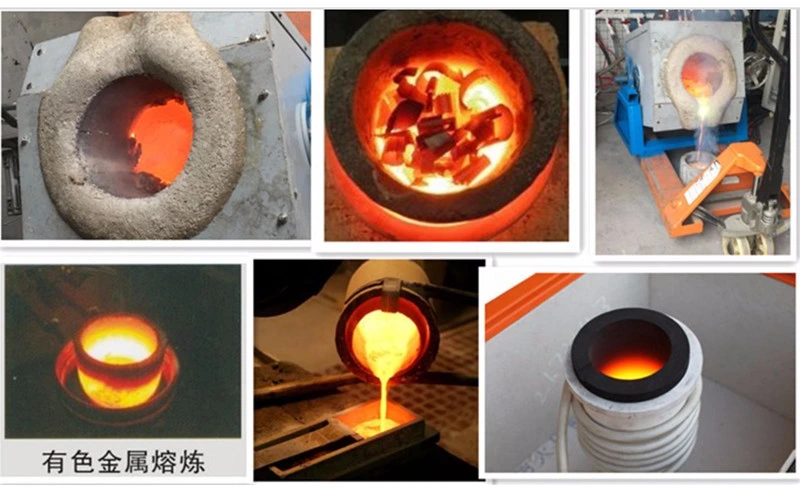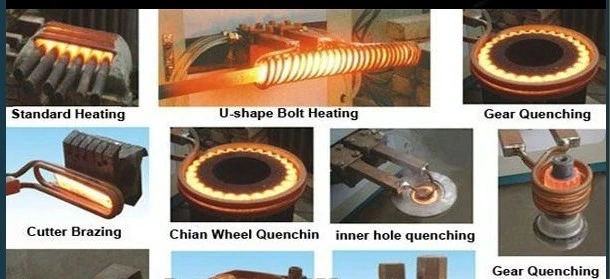 | | |
| --- | --- |
| Output power | 25KW,40KW, 65KW, 80KW |
| Working power | 3*380v/415v/440v/480v 50-60hz |
| The range of operating voltage | 340-430AC |
| Input current | 26A/40A/58A/75A |
| Fluctuating frequency | 30-80KHZ |
| Timing (Heat ,Retain ,Cool ) | 1-99S |
| The flow rate of cooling water | 0.15 Mpa 9LMin |
| Water temperature protection point | 40 centidegree |
| Duty cycle | 100%(40degree room temperature |
| Weight | 42Kg,65KG,105KG,120KG,128KG,135KG |
| Size | 640*280*550mm |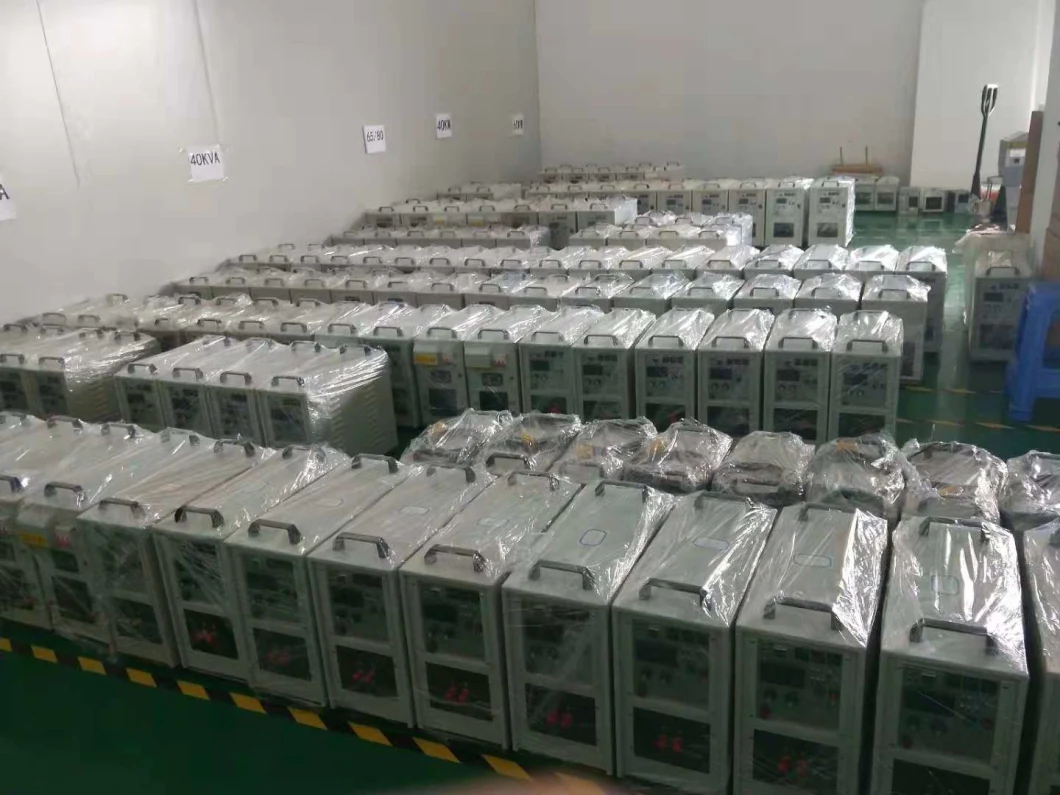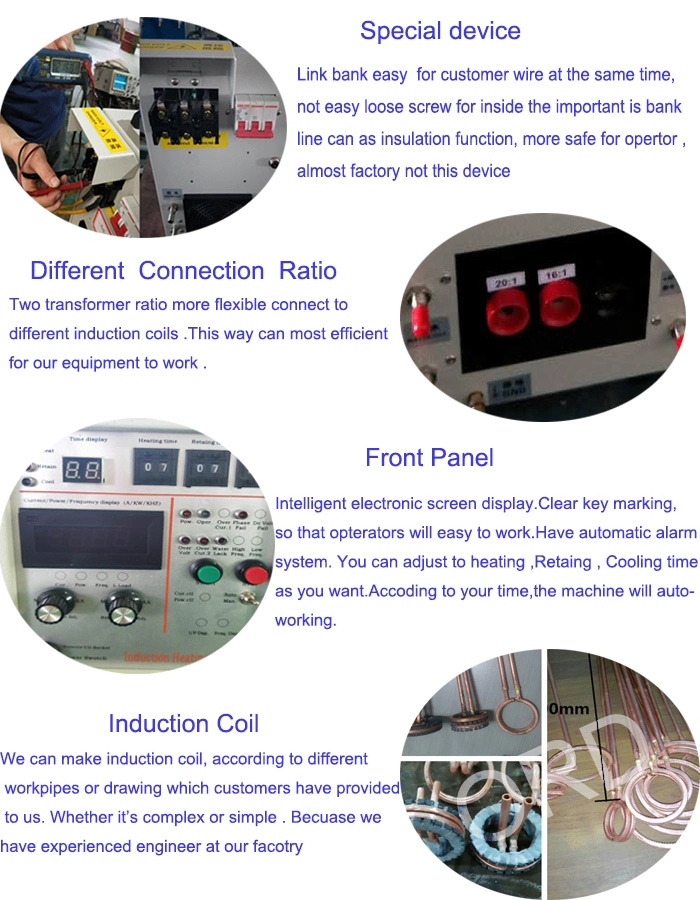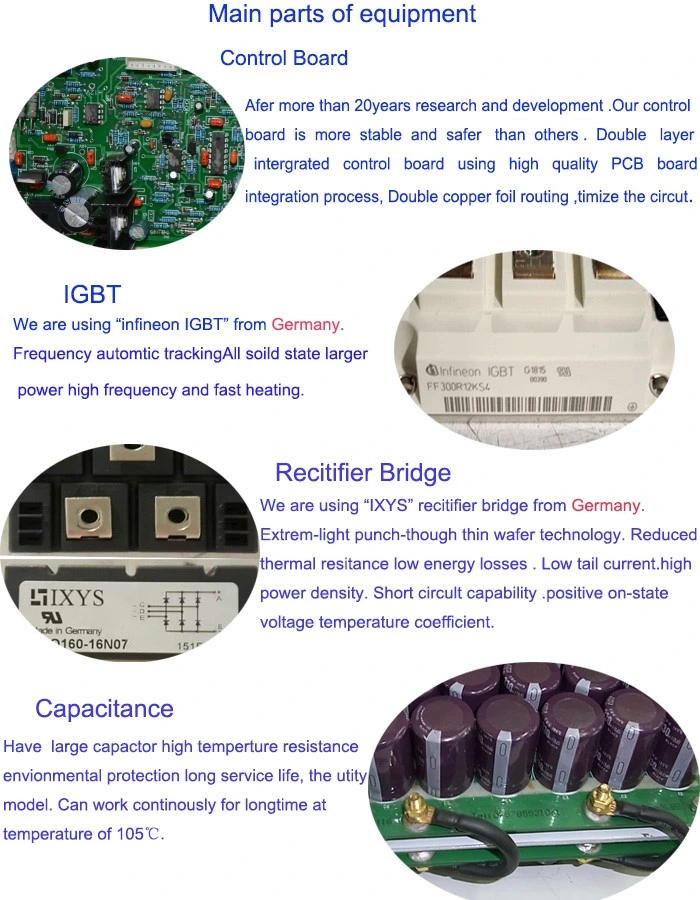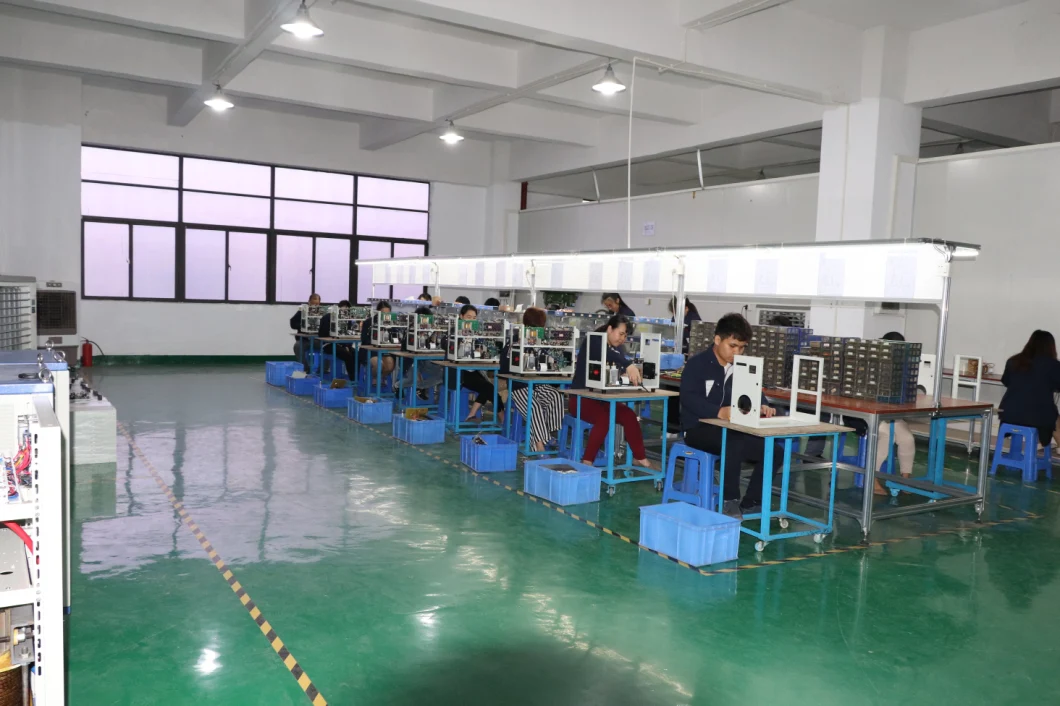 Pre-sale service:
1. recommend the most suitable machine for customers, according to their requirements.
2. Inquiry and consulting support.
3. Sample testing support.
4. View our Factory.
In-sale service:
1. Strictly manufacture the machine, according to relevant technical standards.
2. Take run test, according to relevant equipment test run regulations.
3. Strictly check up the machine, before delivery
4. Delivery on time.
After-sale service:
1. Warranty time: Within 18 months from the date of delivering, 12months from date of receiving.
2. Within warranty all parts are free for customer, any fault caused by non-artificial reason, any quality problems such as design, manufacture, or procedure occurs, We shall provide replacement parts after detecting the faults.
3. If any big quality problems occurs out of the guarantee period, we will send maintenance
technician to provide visiting service after checking with the customer and charge for a favorable price.
5. We will provide a lifetime cost price to the buyer with the materials and spare parts used in system operation, equipment maintenance.
6. The above mentioned are only basic aftersale service requirements,we will make more promises related to quality assurance and operation guarantee.