25KW Induction Heating System with 11 Quartz Tube & Temperature-Controller up to 1700C
Description of Induction melting furnace


SP-11KTC is a larger temperature-controlled induction heating/melting system with complete accessories, which includes a 25KW Induction Heater, 11" O.D Quartz Tube with Hinged type Flanges & Valves, Graphite Crucible & Refractory Assembly, 58L/m Recirculating Water Chiller, Vacuum Pump, and Mobile Cart. It is an ideal tool for melting and sintering new metallic alloys with melting point < 1700ºC (under protective gas environment).

Specification of Induction melting furnace:
Induction Heater

Working Voltage: 220V AC, 50/ 60Hz, Three Phases (380VAC, 3phase available upon request)

Working Current: 10~86 Amps (100A breaker required)

Max. Input Power: 25 KW

Output Frequency: 30 - 80 kHz

Duty Cycle: 100%

Induction Coil: 150mm(OD) x 140mm(ID) x 65mm(H)

Air Cooling: Rear Fan

Protection: Automatic water pressure, over-temperature, and overpower protection

Refractory Assembling: Complete refractory assembling made of alumina, including bottom crucible support, crucible holder, and cover

Temp. Controller & Thermocouple






Precision digital temperature controller with Automatic PID tuning

30 segments programmable for controlling heating and cooling rate as well as dwell time.

Overheating & thermocouple failure protection.

+/- 3 ºC temperature accuracy.

Thermocouple: C type ( 1/4"x10"L )

Continuous Working Temp. Range: 1000ºC~1700ºC

Max. Working Temperature: 1800ºC (for less than an hour)

Optional: Eurothermo Controller with +/- 0.5 oC accuracy at the extra cost

Graphite Crucible & Refractory liners

High Purity Graphite Crucible: 6"

O.D x 5" ID x 6"H,

is included for induction heating.

Three-layer special design refractory liner can withstand temperature up to 1800C.

Note: Graphite crucible is consumable, please click

order spare at CYKY





Sealing Flanges




&




Quartz Chamber

Two-end Open Quartz Tube is included with dimensions of

11"OD x 10.6"IDx 20" H

Top Flange: Stainless steel hinged type flange with 1/4'' thermocouple feedthrough, needle valve, and the barb fitting. Please click the picture (bottom right) to view details.

Bottom Flange: Stainless steel flange with a needle valve and KF-25 vacuum port. Please click the picture (bottom-left) to view details.

KF25 right angle valve& clamps and 1000mm long SS bellows are included for connecting to vacuum pump

Built-in 0.3 Bar pressure release valve to protect over-pressure accident.

Pressure Sensor




Anti-Corrosive Capacitance Diaphragm Gauge (Gas Independent), measurement range up to 3.8x10E-5 torr

One 24V,1A DC power adapter is included and ready to use. Input voltage for the adapter is 110~240V Single Phase.

Flow Meter




Compact Direct Read Flow Meter, 100-1000 cc/min. with 1/4NPT

Accuracy: 4%

Optional: Precision MFC is available upon request at the extra cost

Water Chiller




Temperature range: 5 - 30°C

Water Flow Rate: 58 L/m

Note: It is recommended to use specific coolant to get the best performance.

Vacuum Pump

One

156 L/m Rotary Vane Vacuum Pump is included

Rate: 156 L/min up to 10e-2 torr vacuum.

Max. Power Consumption: 0.4KW / 0.37KW

For US customer, 110V Vacuum pump will be included

If you choose high-speed turbo-pump, vacuum level can reach 10- 5 torr

Heavy Duty Mobile Cart

Structure: Steel Frame Mobile Cart

600mm(L) x 800mm(W) surface for placing Induction Heater & Quartz Tube with Flange

Protective Sheild

For Non-UL Certified version, a protective shield made of phenolic sheets will be provided.

For UL Certified version, a clear protective shield made of polycarbonate will be provided.

The protective shield is to be placed around the quartz tube to contain the shooting glass shards if accidents were to happen.

Product Dimensions

Please refer to the picture to the left for overall size info.

Warranty

One year limited warranty with lifetime support

Consumable parts such as processing tube, thermocouple, refractory liners, o-rings and heating coil are not covered by the warranty

Net Weight

350 lbs
Reference picture of Induction furnace: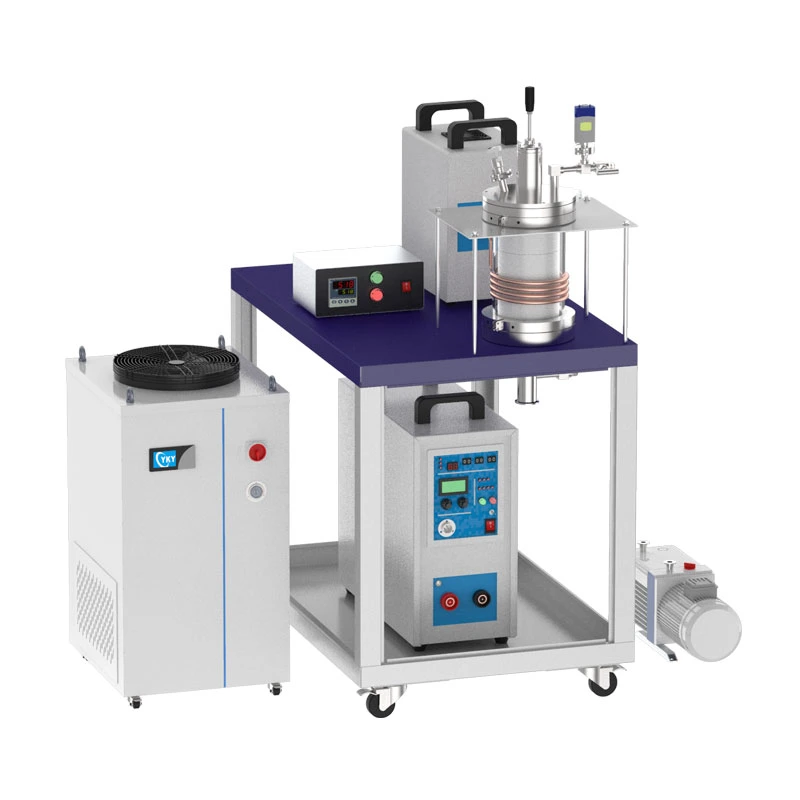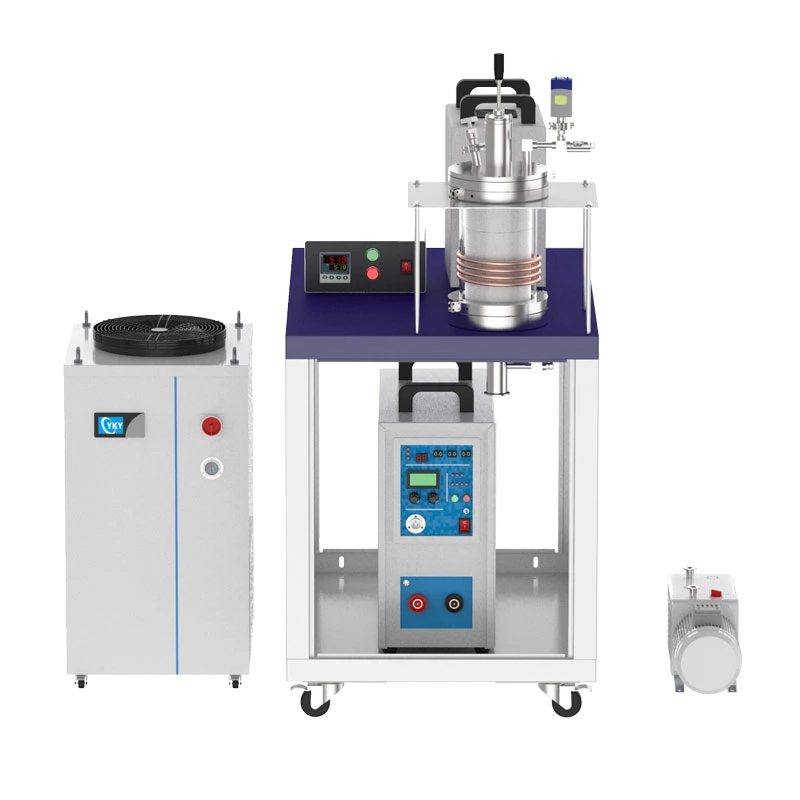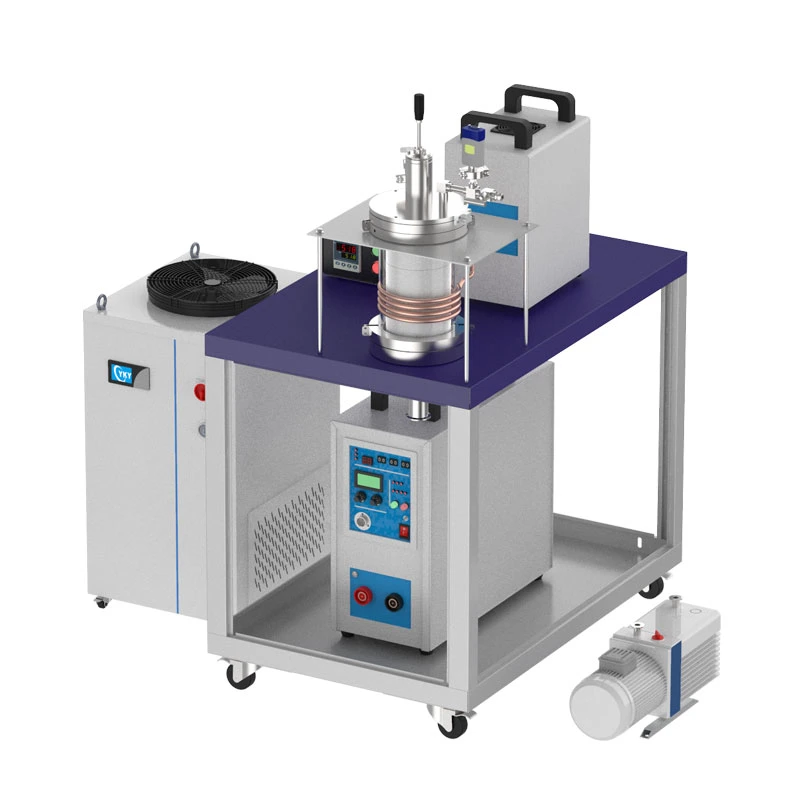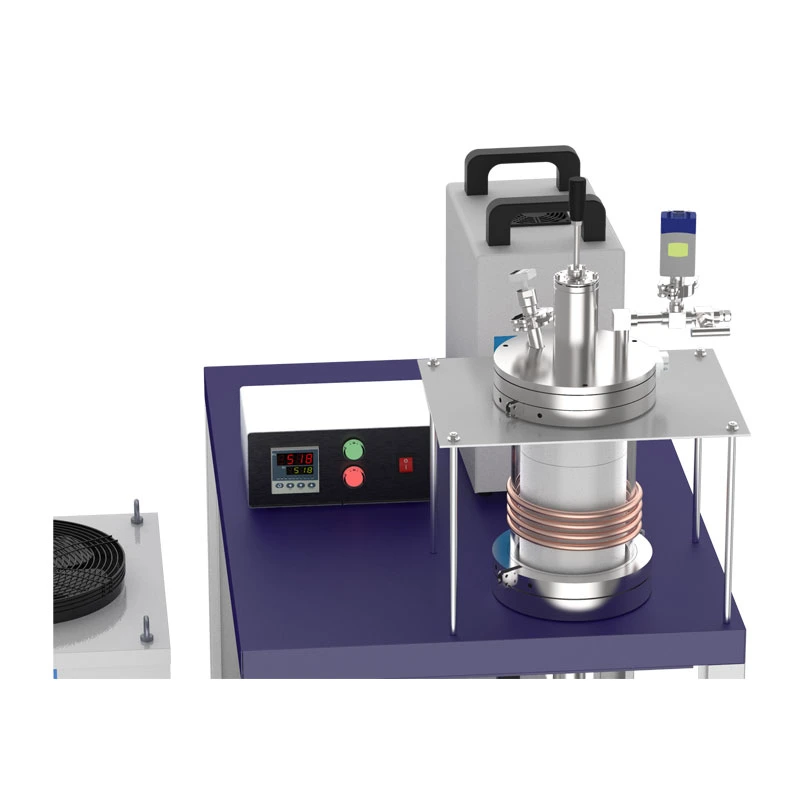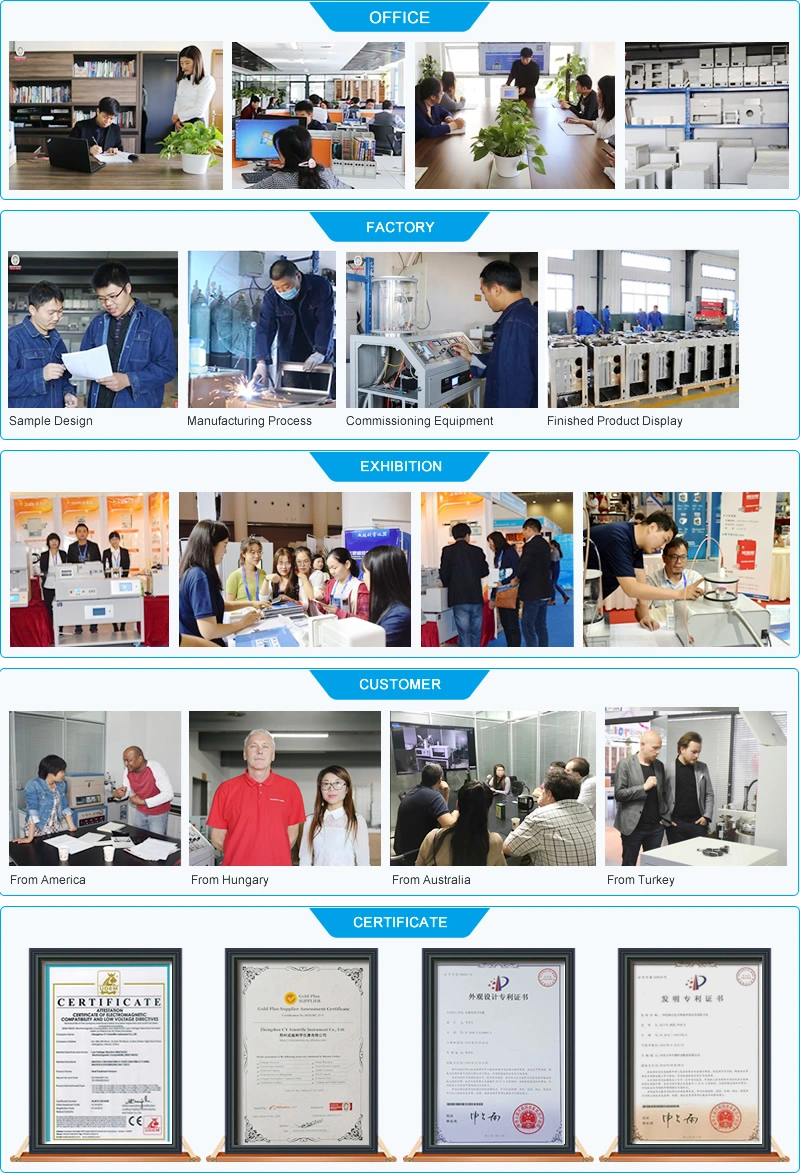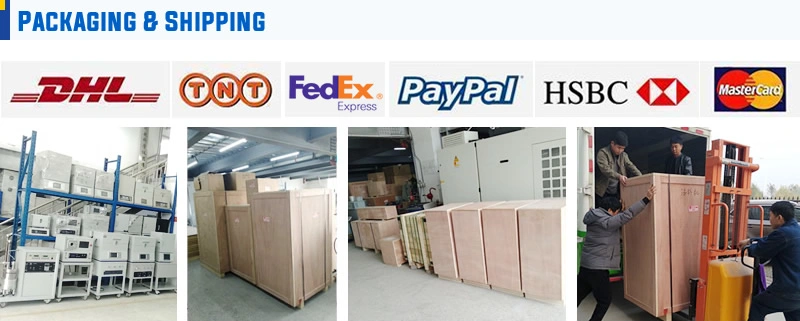 Q. Are you a manufacturer or a trading company?
A. We are professional laboratory instrument manufacturers, have their own design team and factory, have mature technical experience, and can guarantee the quality of products and the optimal price.
Q. How is your company's product after-sales service system?
A. The product warranty period is 12 months, we can provide lifetime maintenance. We have professional pre-sales and after-sales departments that can respond to you within 24 hours to resolve any technical issues.
Q. How long is your delivery time? If I want to customize the instrument, how long does it take?
A.1. If the goods are in stock, it is 5-10 days. 2. We can provide customized services for our customers. It usually takes 30-60 days depending on the specifications of the custom instrument.
Q. Our country's power supply and plug are different. How do you solve it?
A. We can supply a transformer and plug according to your local requirements according to the power plug of different countries.
Q. How to pay?
A.T / T, L / C, D / P, etc., it is recommended to use Alibaba Trade Guarantee.
Q. How is the package of goods? Delivery methods?
A.1. Standard export fumigation sign wooden box packaging 2. Express, air, sea shipping according to customer requirements, find the most suitable way.
More questions, please contact customer service