(250*250*250mm) 1800C High Temperature Electric Heating Furnace for Thermal Treatments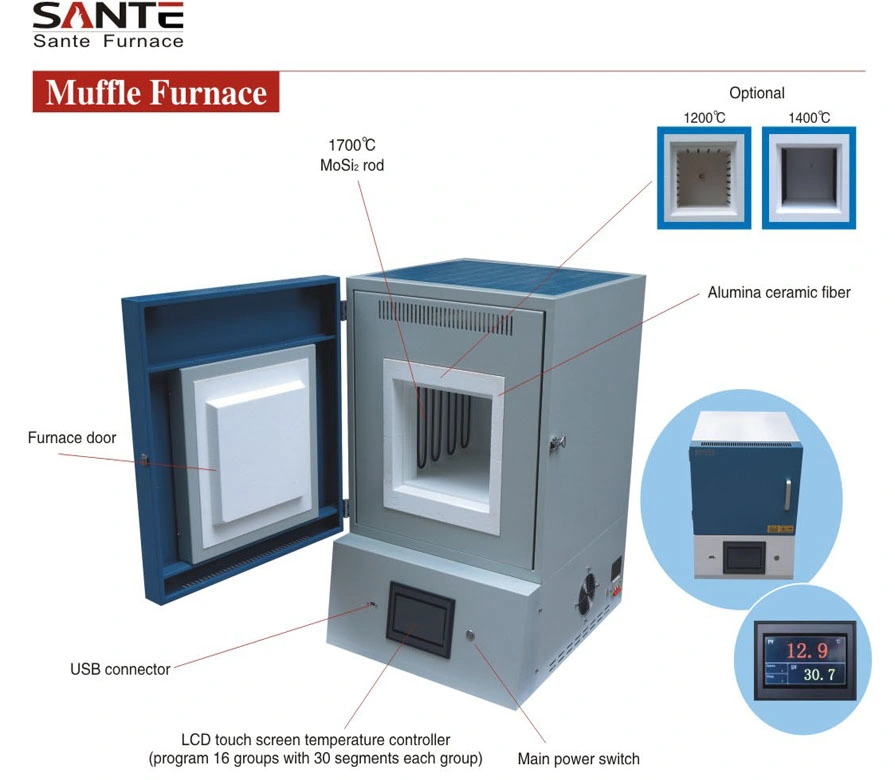 Products purpose
Sante muffle furnaces are applied for the sintering of ceramic and cermet materials , heat treatment of some monocrystal, research of refractory materials' reheat shrinkage under high temperature, and used for small-batch production in colleges, universities and research institutes.
Main features:
1. Furnace chamber material use light weight high purity Al2O3 ceramic fiber materials, no powder pull off under high temperature, small heat capacity, and energy saving more than 50%.
2. Heavy duty double layer structure. Lower teperature in outside case.
3.
Microcomputer PID control module, enabling precise temperature control and constant temperature requirements
4. Temperature control with 2groups/16 segments programmable.
5. Audible and visual over-temperature alarm and automatic protection action of stopping heating.
Specifications:
Maximum temperature
1800ºC(for short time)
Working temperature
1700ºC (continuous)
Heating rate
Patented temperature controlling design with fast heating, it only needs 60minutes from room temperature rise to 1600º

Chamber size

Chamber size:250*250*250)(W*L*H)
capacity:15Liter
Temperature control
16 steps programmable and PID automatic control

Voltage
AC 380V 3 Phase,50/60 Hz

Power
6KW
Heating element
1900 grade MoSi2 Rod
Thermocouple
B-type

Standard accessories

high temperature gloves 1 pair, crucible tong 1pc, Al2O3 sample block 1pc,power line 1 pc
Warranty
One year limited warranty (Consumable parts such as processing tubes, o-rings and heating elements are not covered by the warranty.)
Models:
Model
Volume
Chamber size
W×L×H(mm)
Max.temperature
Operating temp.
Voltage
Power
Heating element
Temp.
Precision
STM-4-18
4L
150×150×150
1800ºC
1700ºC
380V
4KW
1900grade MoSi2 rod
±1ºC
STM-10-18
10L
200×250×200
1800ºC
1700ºC
380V
6KW
1900grade MoSi2 rod
±1ºC
STM-15-18
15L
250×250×250
1800ºC
1700ºC
380V
6KW
1900grade MoSi2 rod
±1ºC
STM-20-18
20L
250×320×250
1800ºC
1700ºC
380V
8KW
1900grade MoSi2 rod
±1ºC
STM-36-18
36L
300×400×300
1800ºC
1700ºC
380V
10KW
1900grade MoSi2 rod
±1ºC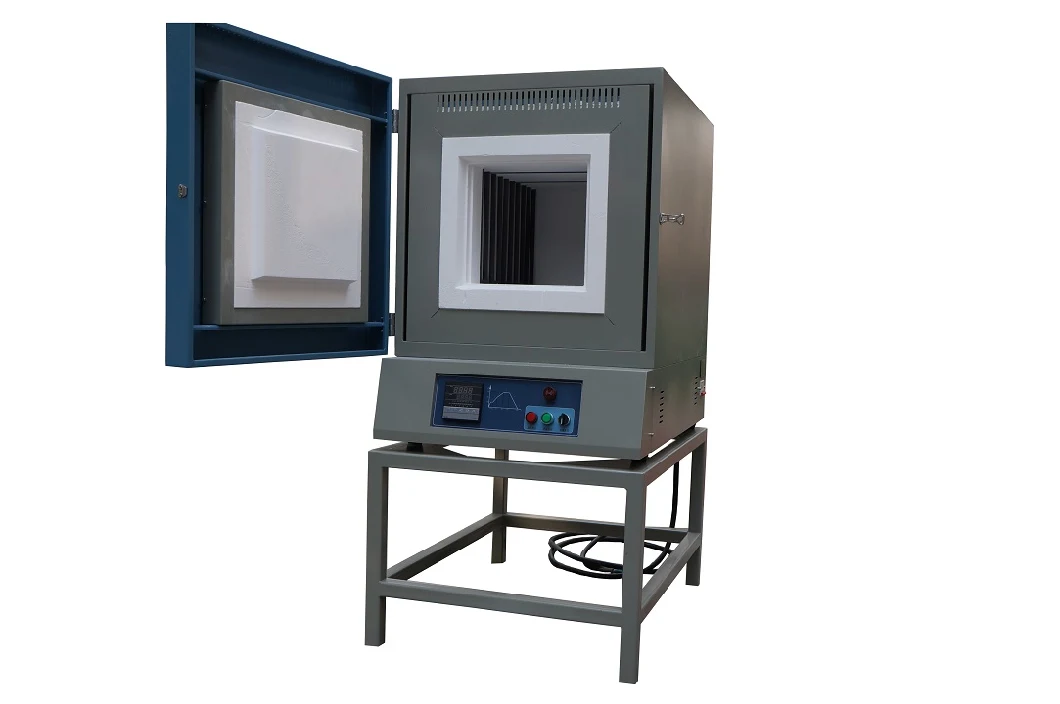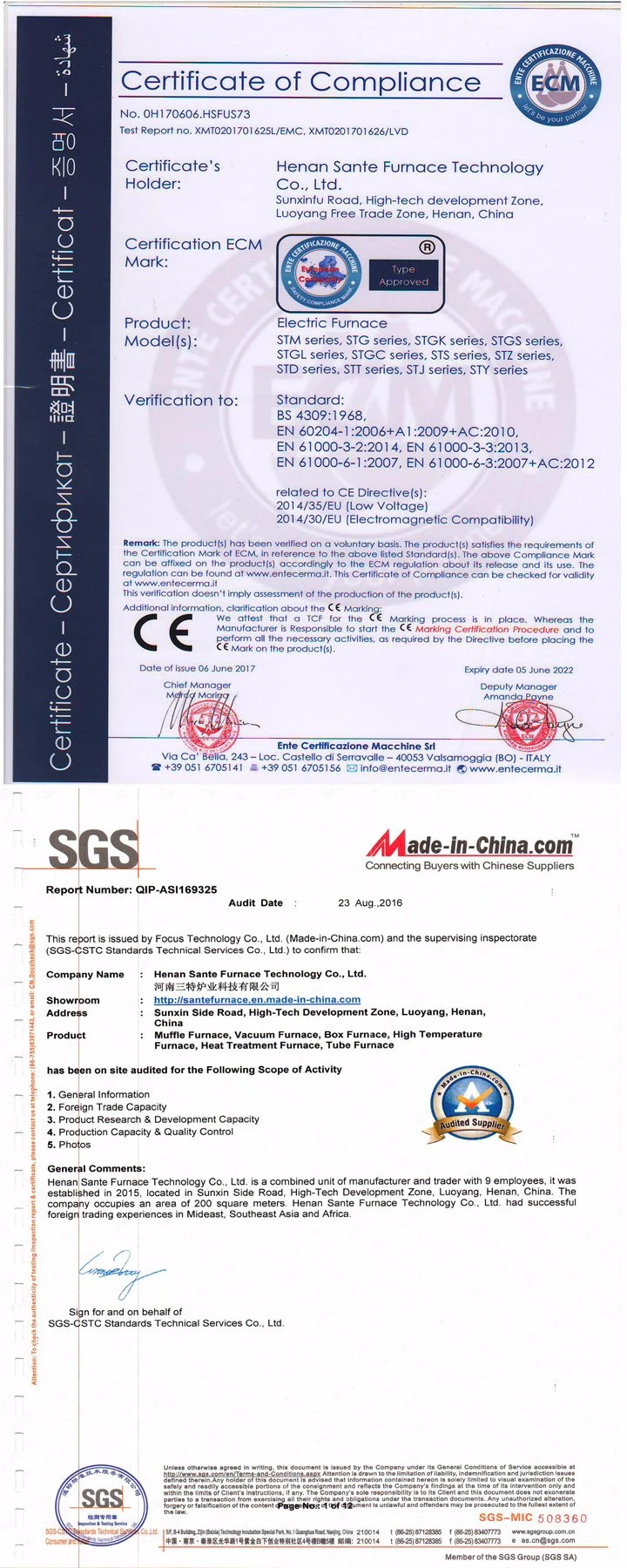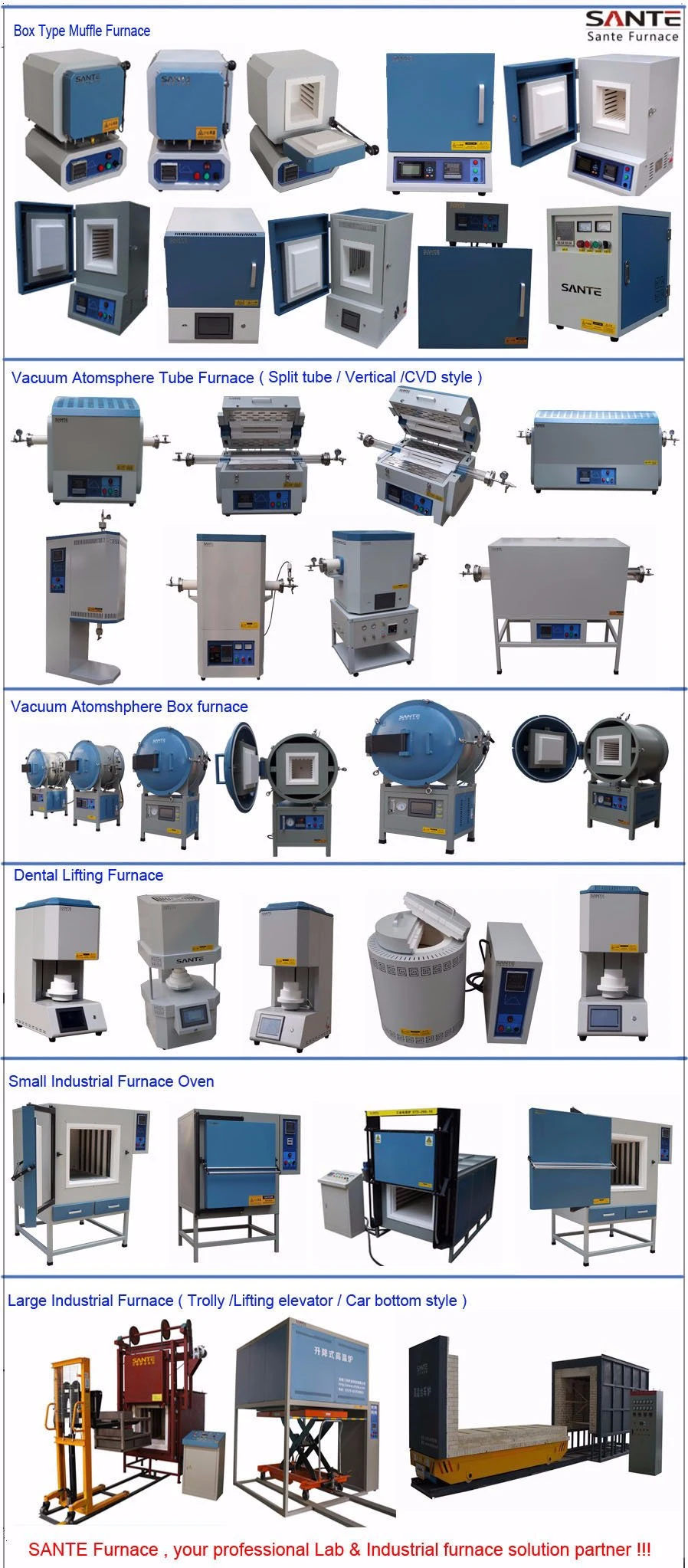 Packaging & Shipping

1) Packing: from the inside to outer packaging, is foam sponge, carton, wooden case.
2) Transport modes: Sea or Air transportation, TNT, DHL express or FedEx.
3) Please make sure the 'shipping address' is your confirmed address.
4) We do check everything in good condition before we ship your parcel out.
5) We will process your order ASAP after payment is confirmed.
About us:
1. We are a leading and professional enterprise that specializes in the manufacture of high temperature muffle Furnaces
2. Our products have a number of technical patents and have passed the ISO9001 quality system certification and CE certificate.
3. Our products covers 1000/1200/1300/1400/1600/1700ºC muffle furnace, tube furnace, vacuum box furnace, dual(multi) zone tube furnace, industrial furnace, elevator/bottom loading muffle furnace, car-type bottom furnace, etc.
4. After ten years of development, Sante Furnace has provided lots of muffle furnaces for colleges and universities, research institutes, involving petrochemical plants, petroleum, smelting, casting, machinery manufacturing, military industry, and other industries in China and overseas.